Watermania!

Cliff's Water Adventure Ride that's Guaranteed to Get You 100% Soaked.
WaterMania! is Open From May 25th thru September 2nd.
Li'l Squirts
This is the place your kids have been waiting for! It's a place of never-ending, super refreshing fun. And, since it was designed just for the little squirts (40″ or under) we decided to call it just that. How clever of us. Li'l Squirts is a squirt park just for tykes, toddlers and their moms and dads.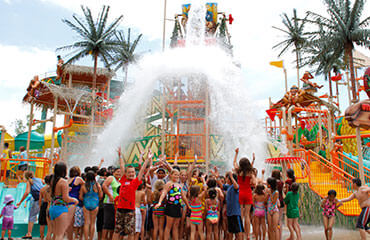 Mega Water Monkeys
There's nothing like it here or anywhere else. Seriously. Our Mega Water Monkeys is the biggest, the baddest, the gigantic-est star of WaterMania! It's where you need to be to beat the New Mexico heat! This is the Monster of all things wet and wild!
Water Park in Albuquerque
Nothing beats the New Mexico heat better than a splash in the water.
Here at Cliff's Amusement Park, the only outdoor water park in Albuquerque, NM, we don't just help you cool off from the heat — we add doses of fun to it! Why settle for the usual swimming pool when you can have double the enjoyment with slides, rides, and all of your friends?
At our water park, you won't just get soaked in water. You'll have F-U-N doing it!
Take the kids, friends, and everyone else you love, and enjoy a super refreshing time in our selection of slides and attractions.
What We Have For You
So why should you drop by WaterMania!, our Albuquerque water park?
Well, here at Cliff's we believe in having attractions for kids of ALL ages!
Do you have toddlers & wondering where little tykes could hang out in the water park? Li'l Squirts is THE place to be for kids of all ages (yes, even toddlers can join in the fun).
What about older kids & teenagers? That would be the main attraction – Mega Water Monkeys, with all the slides, fountains, and excitement even a teenager might.
WaterMania Safety Rules
While everyone deserves to have fun, we ALWAYS put safety first. Cliff's strongly recommends following these safety reminders by heart (complete safety rules here):
Parents should ALWAYS accompany children below the age of 10, especially on the water slides
Wear appropriate swimwear (no items with exposed zippers, rivets, buckles, or other metal ornamentation)
No running or any type of rowdy activity while at the water park
Be responsible with your belongings; don't leave them lying around
Keep your arms and hands inside ALWAYS when inside the flumes
Secure your eyeglasses at all times
What are you waiting for? Bring everyone down to WaterMania! today for a big splash of fun!