Thrill Rides & Coasters

Shake, Rattle, and Roll on Cliff's Thrill Rides
Thrill Rides are not for the timid. These are blow-your-mind, scream-your-head-off, let's-go-again rides that leave you gasping for more!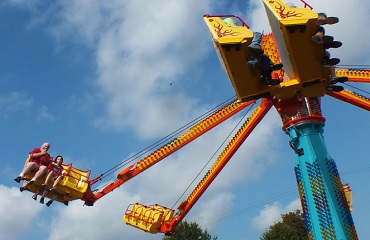 Downdraft
Must be 48" tall
Catch some air, swoop down and shoot back up again! Swing around and around while your feet dangle in the breeze. Nothing beats the feeling of zooming up and down and around on our newest attraction. The Downdraft is destined to be a new family favorite at Cliff's!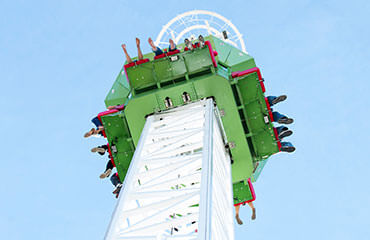 Cliff Hanger
Must be 48" tall
Up, up and up even higher! In fact you'll be lifted 120 incredible feet into the air! Then you'll be breathless as you plummet back to earth at the speed of gravity! It's enough to make even the daredevil go pale and leave every thrill seeker wanting to go again! Oh, it's a cliff hanger alright.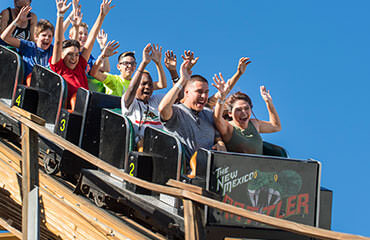 New Mexico Rattler
Must be 48" tall
Voted one of the Top 25 Wooden Roller Coasters in the world, The New Mexico Rattler is a nearly 3,000 foot long high-speed rush of adrenaline and thrills over and around the entirety of Cliff's Amusement Park. Packed with hair-raising drops, wild speeds, wicked turns, and even a 100-foot long underground tunnel, the New Mexico Rattler delivers the ultimate roller coaster experience every time.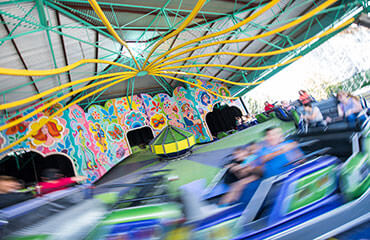 Musik Express
Must be 54" tall
Take a spin with the music aboard the Musik Express! Pulse-pounding music provides the soundtrack as riders are sent spinning into excitement! A fast, high capacity ride that moves in a fluid up and down circular motion with over 2000 lights and an awesome sound system!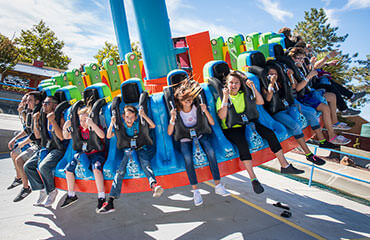 SideWinder
Must be 48" tall
Do you have a stomach of steel? Would you like to put it to the test? Well then, we have the thrill ride for you! The SideWinder, a swinging, spinning monster that, at its highest point, sends passengers twirling 80 feet into the air. For all you adrenaline junkies out there, the SideWinder is just one more reason to spend your summer here.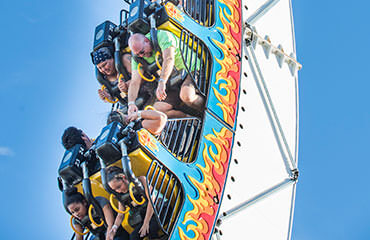 Fire Ball
Must be 48" tall
This summer's dream scream is a rockin' 80-foot high looping roller coaster ride that promises to whip you upside down and back around 13 times a minute! With every loop, you'll come back down to earth just long enough to catch your breath and take your pulse–– and then it's up and over again and again!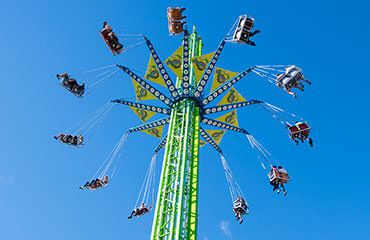 Wind Rider
Must be 48" tall
The Wind Rider lets its riders soar through the beautiful blue New Mexico sky at a whopping 115 feet above the park. The newest thrill ride at Cliff's Amusement Park will blow your hair back by spinning you through the air at an exhilarating 10 rotations per minute and leave you feeling like you're dancing on air.