Kiddyland

Kiddyland: Big Fun for the Little Tykes
Kiddyland is for little kids who want to feel like the big kids! So we've given them their own special place in the park where Moms and Dads can chill out and KIDS RULE! (At least until the ride is over…)
RP = Responsible Person (over 54″)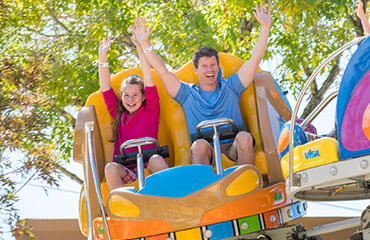 Spin-O-Rama
36″ to 48″ OK with RP
Our newest addition to Kiddyland takes it's 16 riders on a spinning, looping, and thrilling adventure. The Spin-O-Rama is a crazy figure eight steel coaster that is fun for all ages. Riders sit back to back on spinning cars as they are whipped around the track at an exhilarating pace. What are you waiting for? Hop on and take a spin!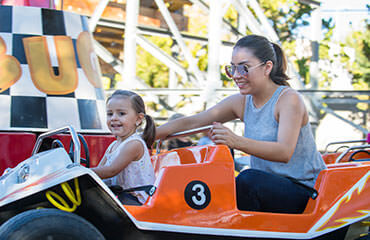 Baja Buggy
Under 36″ OK with RP
No driver's license? No problem. The Baja Buggy puts the kids behind the wheel of their very own dipping, turning, and bouncing dune buggy. Oh sure, you can hop on too, and watch their faces light up when you get your little ones out of the child seat and into the driver's seat.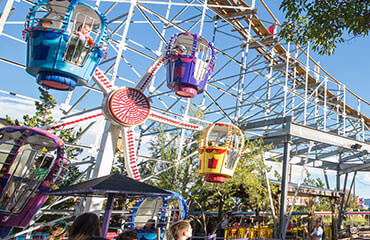 The Balloon Wheel
Under 36″ OK with RP
The Albuquerque Balloon Festival has nothing on Cliff's! Here you can climb into your own balloon and take off into the sky, letting the breeze and the swaying motion of the Balloon Wheel gently rock you back and forth as you go 'round and 'round. This is the perfect ride for the budding pilot!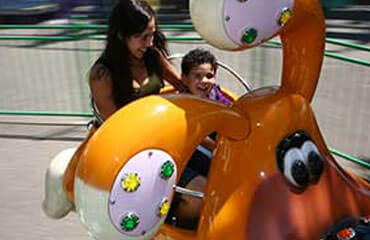 Doggie-Go-Round
Under 36″ OK with RP
The Doggie-Go-Round is one of the most fun additions to Kiddyland. Your little ones will love calling one of these oversized canines their own, riding along behind giant ears and following the dog in front. Lights flash, music plays and children's eyes get bigger and bigger along with their smiles.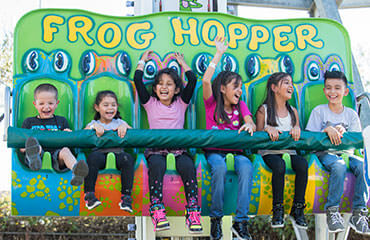 The Frog Hopper
Under 36″ OK with RP
One look at their faces says everything about The Frog Hopper! Kids of every age (but especially the little ones) will be lifted up and up and up a little more, then drop in a hopping motion that thrills them! The larger outer seats will let you enjoy the ride right along with the kids.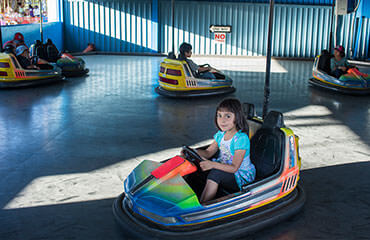 Kiddy Bumper Cars
36″ and Over Ok to Ride
It's time for the kids to get kinda reckless, as they drive around the rink bumping gently into each other and into the walls. Don't worry though, the kiddy bumper cars move slowly enough that no one gets hurt, but they sure laugh a lot.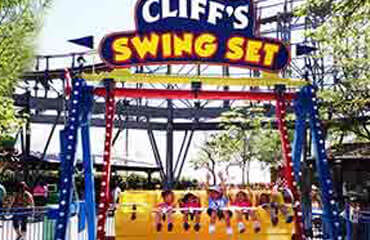 Happy Swing
Under 36″ OK with RP.
Ok, kids, hop on the biggest swing set you ever saw! When it starts to swing you'll go back and forth, baaack and foooorth, higher and higher – and nobody's pushing!!!