Food & Treats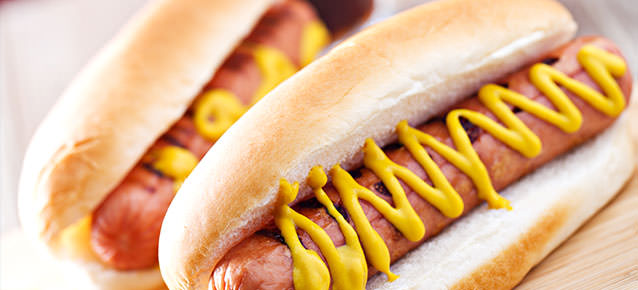 Even the Food is Fun at Cliff's!
Part of the fun of Cliff's is all our Fab Fun Foods and refreshing drinks! There are different eats and treats at different restaurants located throughout the park.
Cabana Grill
Located in WaterMania!, you'll find 100% beef hamburgers & cheeseburgers cooked over an open flame,  hot-dogs, chicken strips & a chicken sandwich cooked  to perfection. Be sure to add chips and a drink to make it a combo meal.
Cabana Chill
Located in WaterMania!, cool off at Cabana Chill, with plenty of yummy soft serve treats, Sno-Kones, smoothies, shakes and the spectacular Cliff's Avalanche. It's a great place to sit, relax and take a break!
All American Cafe
This legendary eating establishment has been serving Cliff's guests for over 30 years! We serve chicken sandwiches, burgers, hotdogs, fresh dipped corndogs, and refreshing beverages to cool down. Don't forget to make it a Combo with fries & a drink!
Dippin' Dots
Dippin' Dots are located throughout the park ready to give your tongue the colorful sparkle of the fun and futuristic way to eat ice cream! Our three Dippin' Dot stands serve your favorite flavors of Dippin' Dots. You can also make any size cup a sundae, just ask.
Icee Mix-it-Up
Ready for a brain-freeze? You know that super-cold, super-yummy flavor of a great ICEE slushy drink will do it every time! Get your favorite flavor of Icee or just mix-it up with a combination of your favorite flavors. This is the perfect place to purchase a refillable souvenir cup for memories all season long.
Kiddyland Café
There's a lot more than fun going on in Kiddyland – there's also a great little place serving hotdogs, nacho cheese dogs to both kids and adults. Get the fun foods that kids love, like nachos, giant pretzels, cotton candy, popcorn & fresh squeezed lemonade. Don't forget to try  Dippin' Dots, you pick your favorite flavor!
Cliff's Pizzeria
Come pick up a personal pizza or a whole pizza, fresh-made and served at the perfect temperature with your favorite topping. You'll also find our tasty appetizer platter a tasty treat while your pizza is cooking to perfection.
Everything Ice Cream Stand
In our Soft Serve Ice Cream Stand lick the twirl off a cold, sweet and yummy waffle cone with vanilla & chocolate twisted to perfection, or a flavor burst twisted right in, or try our new churro sundae in your favorite flavor.
Cliff's Funnel Cake Factory
In our Funnel Cake Factory try a powdered sugar & cinnamon funnel cake or one with strawberry, blackberry or chocolate sauce & ice cream. Or try a deep fried churro in your favorite flavor. For the smaller appetite try our mini funnel cakes.
Snack Shack
Just south of Guest Services you can find Cliff's Snack Shack. When you need to quench your thirst? Get your favorite Agua Fresca, fresh squeezed lemonade, your favorite flavor of soda in a bottle, or just a bottle of water. You can also try our fresh made popcorn, cotton candy, churro or mini donuts.
Smokey's Jumbo Legs and Refreshments
Opening Memorial weekend, Smokey's is the place to grab a giant turkey leg barbecued to perfection or fresh roasted corn on the cob. Cool down with an Agua Fresca, or get brain freeze with your favorite Slush Puppy flavor. Your favorite soda flavor in a bottle or a cold bottle of water are just waiting to quench your thirst. You'll find this Cart near the entrance to WaterMania!.