Family Rides & Attractions

Family Rides for Kids of All Ages
Family Rides are perfect for the entire family – not too scary, just lots of fun for everybody. Our classic Carousel is a family favorite.
SC = Supervising Companion (over 54″ tall) is a person on a ride or device who is qualified by a reasonable age or other means to understand rider instructions, assist a patron, or child under 48″ in height in complying with rider instructions, and who meets all other criteria for riding.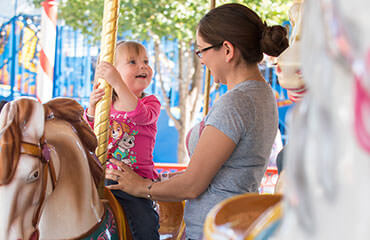 Carousel
Must be 48" tall
The Carousel is a wonderful, relaxing ride for both kids and adults. You'll choose your favorite pony from our stable of beautiful mounts and trot or gallop 'round and experience the classical Carousel come to life. Under 48″ OK with SC = Supervising Companion (over 54″)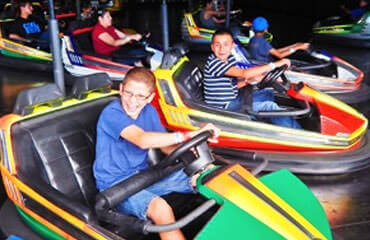 Demolition Disco
Must be 50" tall
You'll drive, crash, and go a little crazy behind the wheel in Demolition Disco! Oh, it feels so good as you throttle around in a hotrod party of thumping music, amazing lights, and wild bumper cars. Riders bop, slam, and crash into family and friends behind the wheel of their very own bumper car.
Falling Star
Must be 48" tall
Riding the Falling Star is almost like astronaut training! You'll feel like you can reach right out and grab the stars as you're lifted high into the air in a giant orbit that floats up and up. It feels like you're spinning right into space… then back again into the earth's atmosphere. And just when you think you've regained your breath, LOOK OUT because you're spinning right back into space. Under 48″ OK with SC = Supervising Companion (over 54″).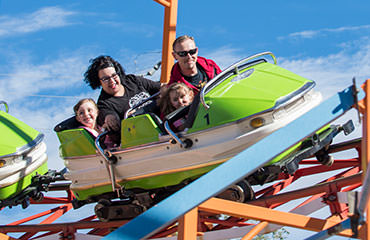 Galaxi
Must be 48" tall
The first roller coaster ever in the State of New Mexico, The Galaxi is a fast paced ride on steel rails certain to delight coaster lovers of all ages. Packed with dips, tight turns, and a wild helix, The Galaxi is the perfect ride for families and thrill-seekers alike. Don't miss its own spectacular glory at night as the coaster comes alive with a light show all its own, making the ride an all new experience every time you ride. Under 48″ OK with SC = Supervising Companion (over 54″).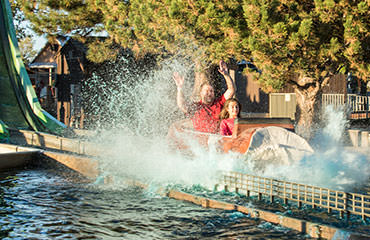 Rocky Mountain Rapids
Must be 48" tall
Climb aboard a wet & wild ride along the Rocky Mountain Rapids. You'll float along a river and speed by other attractions while you're greeted with splashes and waves at every turn. Then… there it is — the soaring peak of the Rocky Mountain Rapids, where you'll climb up and up to then drop back to the ground in a drenching splash. Trust us, when this ride is over you'll be wet, refreshed and full of smiles. 36″ to 48″ OK with SC = Supervising Companion (over 54″).
Sea Dragon
Must be 48" tall
Jump aboard the Sea Dragon and ride a tidal wave of power! You'll be amazed at the mighty swings and sways of this enormous pirate ship. Oh, it begins gently enough, but then it swings into action climbing to soaring heights, then rocking you back down only long enough to hurl you high into the air atop another giant wave!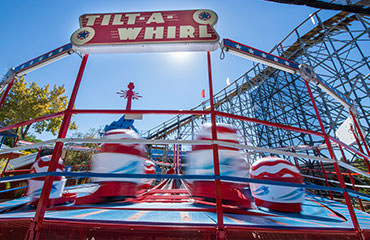 Tilt-A-Whirl
Must be 48" tall
The world-famous Tilt-A-Whirl is one of everyone's favorite rides! Come along and spin, spin and spin some more as you go up, down and all around. You never know which way your car is going to spin. Even if you sit there and do nothing, you'll spin clockwise then get spun the other direction! There is no control, no steering, no path… just amazing turn after turn, and smile after smile. Under 48″ OK with SC = Supervising Companion (over 54″).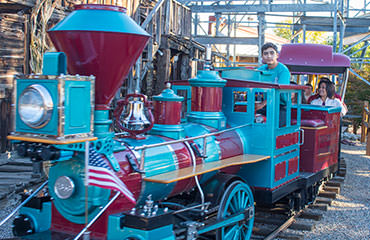 Train
Must be 48" tall
Chugga…chugga…chugga…WHOO WHOO! All aboard Cliff's old-time Train for a relaxing ride around the park. Just the right size for both kids and their parents, the Train engineer gives you a guided tour of all the fun things to see and do at Cliff's. Under 48″ OK with SC = Supervising Companion (over 54″).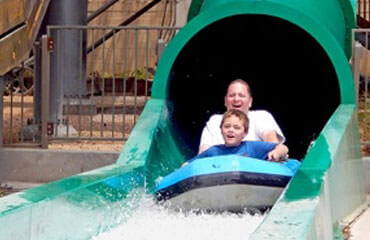 The Big Flush
Must be 48" tall
It's a twisting ride through darkness as you get splashed and soaked with every drop and turn aboard The Big Flush Water Coaster. Seated inside a raft just for you, you'll be sent hurling at the mercy of gravity through a winding pipeline of water fun. It's impossible not to burst into laughter at every surprising splash and high-speed twist. Under 48″ OK with SC = Supervising Companion (over 54″). Passenger Raft Limits: 2 Persons over 54″ or 1 person over 54″ with 2 persons under 48″ or 1 person over 48″ with minimum weight of 90 lbs.  Maximum Weight Per Raft: 350 lbs.